Anand College of Pharmacy Celebrated World Pharmacist day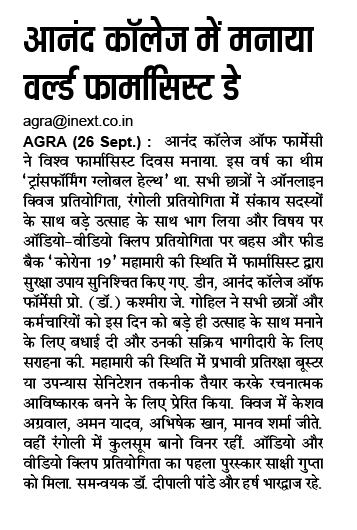 Anand College of Pharmacy (SGI, Agra) celebrated "World Pharmacist Day", on 25th September, 2020. The day is celebrated world over to promote and advocate the role of the pharmacist in improving health in every corner of the world. This year the theme was "Transforming Global Health". All students participated online with great enthusiasm along with faculty members in online quiz competition, rangoli competition and debate and feedback on audio video clip competition on the topic "Safety Measures Ensured by Pharmacist in COVID 19 Pandemic situation.
Dean, Anand College of Pharmacy Prof. (Dr). Kashmira J. Gohil, congratulated all students and staff for celebrating this day with great panache and appreciated them for their active participations , further motivating them to become creative inventors by preparing effective immunity boosters or novel sanitization techniques in this COVID 19 pandemic situation. She also applauded the efforts of faculty members for their commitment and dedication.
The First prize of the quiz competition was won by Keshav Agrawal (B. Pharm 4 th  Year), Aman Yadav (B. Pharm 3 rd  Year), Abhishek Khan (B. Pharm 2 nd Year, Section-A) and Manav Verma (B. Pharm 2 nd Year, Section-B) and Yagyas Anand (D. Pharm 2 nd Year). Rangoli competition was won by Kulsoom Bano (B. Pharm 4 th  Year) who secured first, Abhishek Kushwah and Ashish Upadhyay (D. Pharm 2 nd Year) secured second. The first prize of the audio &  video clip competition went to Sakshi Gupta (B. Pharm 3 rd Year) & second prize to Utsav Sharma (D. Pharm 2 nd  Year). The coordinators of this event  were Dr. Deepali Pandey and Mr. Harsh Bhardwaj.