7 days Online National Workshop on Research Methods & Data Analytics with SPSS @ HIMCS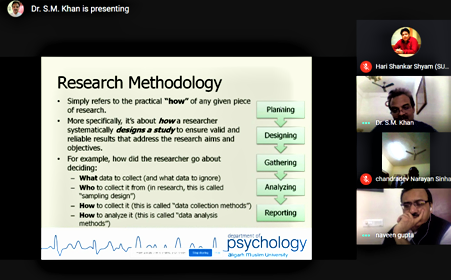 Hindustan Institute of Management and Computer Studies, Farah, Mathura hosted seven days of online workshop on "Research Methods & Data Analytics with SPSS" scheduled from 6-12 November 2020. The resource persons for the workshop were Professor Dr. Ashok Mittal, Vice-Chancellor Dr. B.R Ambedkar University, Agra, Dr. Naveen Gupta, Director HIMCS, and Dr. S.M. Khan, Associate Professor, Aligarh Muslim University. The participants were research scholars and faculty members from different colleges & universities from all over India. The workshop covered key concepts, terminology, and data analysis using SPSS. The focus of the workshop was to undertake an empirical research-based setting which includes advanced/professional statistical technique, an overview of SPSS, data analytics, and interpretation of results.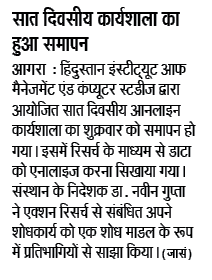 The inaugural session was delivered by Prof Ashok Mittal, who presented the case for greater emphasis on research. He encouraged the participants for real-time research in their respective subjects. Professor Naveen Gupta focused on Action research He said that goal of the action, research is to create a simple, practical, repeatable process of interactive learning, and evaluation and improvement with better results for society as well. Dr. S.M. Khan discussed the applications and issues pertaining to research in the respective domains of participants during 7 days of the workshop. During the concluding session, participants shared their valuable experiences of the workshop they said that the seven days workshop was indeed a great experience as all basic ideas related to working on the statistical package for social sciences was discussed thoroughly. During the workshop, the participants came to know about AMOS and Text Analysis and various other tools to analyze research data. The examples quoted by the resource persons were depicting the paradigm shift in research and targeting towards qualitative action-based research. The vote of thanks was given by Ms. Tanu Marwah, coordinator of the workshop.