Jeevika-Innovative Sanitizer Model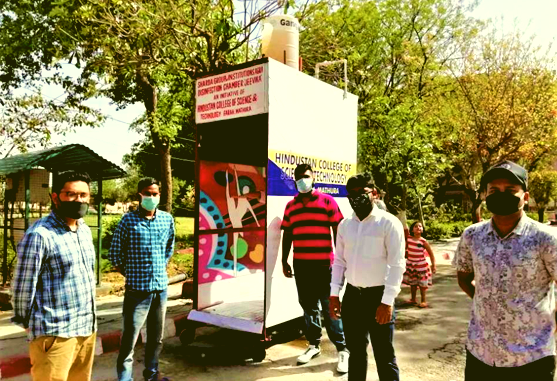 Innovative Sanitizer Model can sanitize one person within 20 seconds and around 900 people will be sanitized throughout the day. At this time the whole world is groaning in Corona and the infection of this virus is gradually increasing. As we all know that the powerful and developed countries like America, Italy, France, Spain, Israel and China etc. have also succumbed to this epidemic. The outbreak of this epidemic has made more than 100000 people, a victim. Taking lessons from other countries, the Indian government has instructed the citizens to stay at home. Keeping in mind the wellbeing of the citizens, they have been requested to maintain social distancing whenever they come out of their houses for unavoidable work. They have also been requested to clean hands and apply mask on mouth. The members of the society have been asked to cooperate and follow instructions given by the government from time to time.
To save the society from this infection, a team of Professors of Hindustan College of Science & Technology, Mathura, including Dr. Vinod Kushwaha, Asst. Prof. of Physics, Mr. Vipin Kumar, Asst. Prof. of Biotechnology,  Mr. Kapil Gupta, Associate Professor Mechanical Department, Mr. Vijay Katta, Assistant Professor Computer Science Engineering Department have combindly made a low price sensitization chamber, which will prove to be helpful in protecting the person from Coronavirus.
This unit will be installed in very crowded places of the city in Agra and Mathura including District Magistrate Office, Police Line, Bus Stand and S.N. Medical College, Agra etc. This machine sanitizes about 3 people in 1 minute. At a time one person will be allowed to go into the chamber for sanitization purposes. The person is asked to stand with his hands up for about 20 seconds. After 20 seconds the person will be fully disinfected.
Mr. Y.K. Gupta, Vice Chairman of the Sharda Group, told that the college has always been contributed to make the society aware and help at the time of disaster. Mr. V.K. Sharma, EVP, Sharda Group, said that the Hindustan College takes full responsibility of the maintenance and supply of these machines. Director of the College, Professor Rajiv Kumar Upadhyay, said that this is a very important contribution to prevent from Coronavirus infection.
This machine will be installed in the central places of the city as and when required by the District Administration. He emphasized that serving the society in all the directions is the goal of the college and the college understands its responsibility towards the nation. The college has always come forward in need of the society from time to time and has performed its duty sincerely. The college has dedicated the first model of the said machine to the society. The district administration has thanked the college for its unique initiative towards Covid-19 worriers like social workers, health workers and sanitation workers.