AEC secured 18th position in Dr. Kalam Entrepreneurship League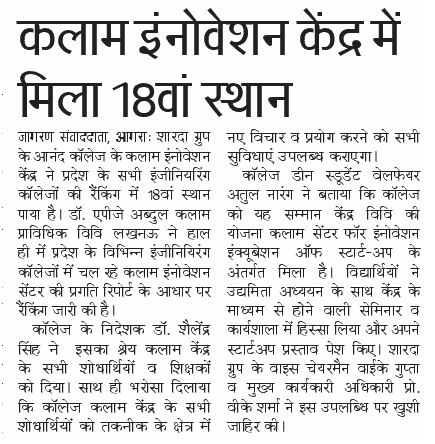 Dr. APJ Abdul Kalam Technical University declared the ranking of its affiliated colleges in Dr. Kalam Entrepreneurship League (KEL) round 9 vide its letter AKTU/VCO/2020/10581 dated 08/01/2020. It is a matter of great pleasure that Anand Engineering College, Agra got 18th  Position in the state of Uttar Pradesh amongst all affiliated colleges of AKTU.
Dr. Shailendra Singh, Director Anand Engineering College congratulated all the students and volunteers associated with AEC Kalam Innovation Centre. He told that AEC Kalam Innovation Centre got 122 marks and secured  eighteenth rank in AKTU.