AKTU Zonal Literary & Management Fest Winner @ AEC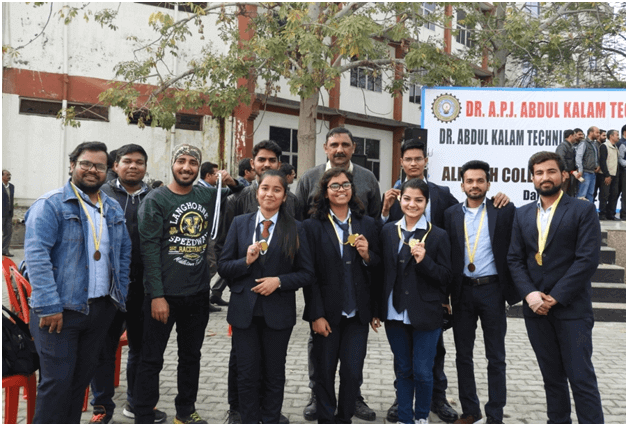 AKTU Zonal Literary & Management Fest Winner @ AEC
The students of Anand Engineering College Technical Campus Agra showed their efficacy in the University Zonal Literature and Management Competition (AKTU Zonal Literature and Management Festival – 2019) organized by Dr. A.P.J. Abdul Kalam Technical University at Aligarh College of Engineering, Aligarh. In this two-day literary and management competition, students from various colleges have participated.
Anandians win Gold Medals in Hindi and English Debate Competition, Check Your Knowledge, Frugal Engineering and Business Plan Competition, among many other performances.
In the English Debate Competition, the student of Biotech Department, Bhagyashree Shrivastava and student of Computer Science Department, Diwanshi Garg's team wins Gold Medal.
In the Check Your Knowledge Competition, the team of Mechanical Engineering Department students Sameer Pipal and Prashant Kumar Tiwari wins Gold Medal.
In the competition of Frugal Engineering (Jugaad), the students of Mechanical Engineering Department Prashant Kumar Tiwari, Yashwendra Chaudhary, and Udit Narayan got the gold medal.
In the Hindi debate competition, the student of Biotech Department Nivedita Mishra and the student of Computer Science Department Tushar Mehrotra win Silver Medal.
In the Business Plan Competition, the team of student from MBA Mr. Ashish Sharma and Mridulika Jadoun wins Silver Medal.
Dean Student Welfare of college, Prof. Atul Narang congratulated all the winning students and gave credit to all the teachers of the college.
Dr. Shailendra Singh, Director, Anand Engineering College, congratulated the students for their performance and encouraged them to participate in such programs.
Mr. Y.K. Gupta, Vice Chairman, Sharda Group and Dr. V.K. Sharma, Executive Vice President congratulated the winners in the competition.
Media Coverage: