Foundation Day Celebration @ SGI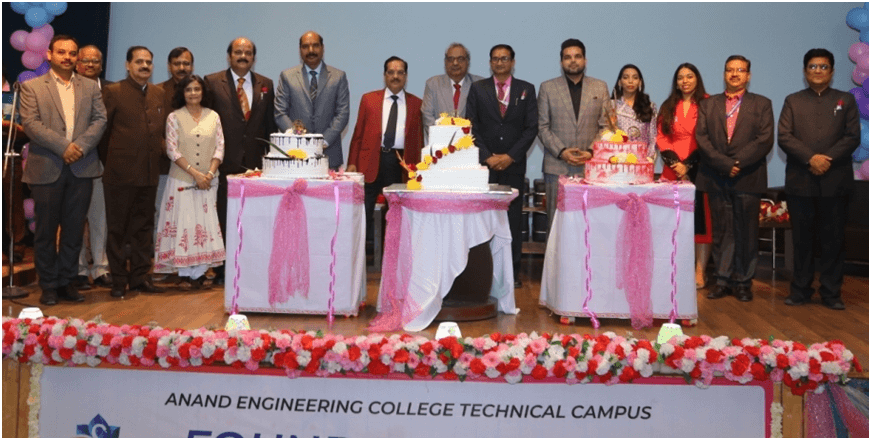 Sharda group of Institutions celebrated its 27th Foundation Day and Silver Jubilee of Anand Engineering College, Agra on December 16, 2022. The program started with lighting the lamp and recitation of Saraswati Vandana. Shri P.K. Gupta, Chairman, Sharda Group was welcomed by Prof. V.K. Sharma, Executive Vice President of SGI with a bouquet and Shawl.
Dr. Shailendra Singh, Director Anand Engineering College and Dr. Rajeev Kumar Upadhyay, Director HCST congratulated Shri Y.K. Gupta, Vice Chairman Sharda Group and honoured him with a shawl and bouquet.
Dr. Shailendra Singh, Director AEC in his welcome address shared the journey and unforgettable memories of the group and Anand Engineering College. He said that the students of our group are doing excellent work in every corner of the world.
Sh P K Gupta Ji, Chairman Sharda Group congratulated all the stakeholders on 27th foundation Day and successful completion of 25 years of Anand Engineering College. He said that in 1996, the foundation of Sharda Group was laid as Hindustan College. After that, every year Sharda Group has opened new heights and institutes like Anand Engineering College, Anand College of Education, Anand College of Pharmacy, Sharda University, Greater Noida, Sharda University Uzbekistan and a world-class medical college in Noida.
Shri Y. K. Gupta Ji, Vice Chairman, Sharda Group, expressed happiness on the completion of the silver jubilee of the Anand Engineering College. He said that this silver jubilee celebration is a matter of joy for us.  He assured that in future Sharda Group will establish more Universities and will mark its presence in top colleges of India.
The program concluded with a Vote of Thanks and Kulgeet.