Great starting of new placement season in Sharda Group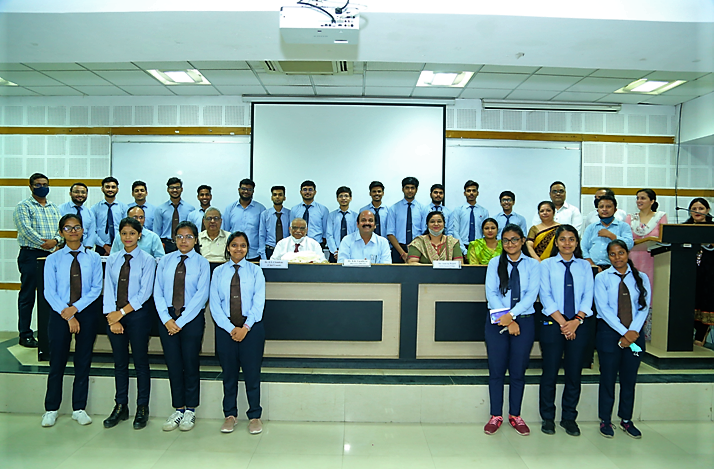 There is a new atmosphere of enthusiasm and excitement among the students of B.Tech and Management of Sharda Group 2022 Passing out) amid the stressful environment of Covid-19 pandemic. Hindustan College of Science and Technology of Sharda Group of institutions  started its campus placement process through virtual selection from the month of August by leading companies which mainly include "Infosys Hackwinfi", "Amazon India", "Lewis India", "Hivo Data".  Jaspe Technology' which was started for CS , IT , EC , EE branches.
The major companies like Unthinkable Solutions, Impetus Technology, Daffodil Software , Chikmick, Companies, Jarrow Education, Ideas, Ultratech Cement etc has  selected the students of  Hindustan Campus. All the selected students have been offered  annual package of CTC: 5LPA to CTC: 8.47 LPA.The whole selection process was online for the safety of the students. In this process the company has conducted Pre Placement Talk, Online Aptitude Test, Technical Interview, and HR Interview through virtual mode.
Sharda Group (SGI) is one of the largest educational groups in North India  There are 3 campuses in Agra and Mathura region, University of Arts at Greater Noida, 20 colleges with a sprawling 180-acre campus, and the campus has more than 20000 alumni students are serving in reputed companies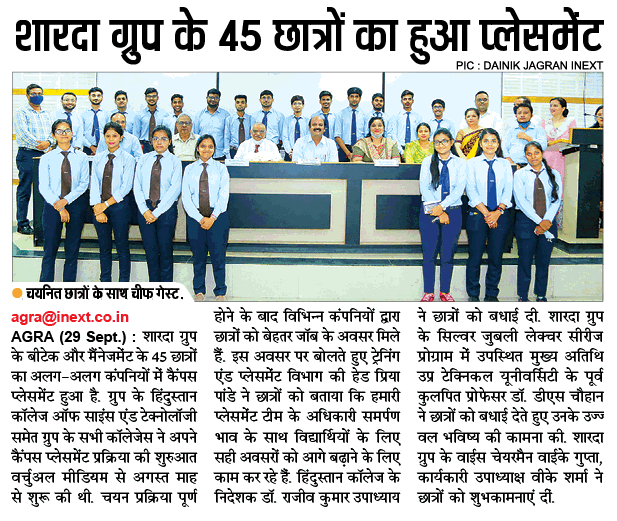 45 students of "Sharda Education Group" have been selected (Session-2022 Passing out Batch) in various companies.  In the selected students, 34 students from Hindustan College of Science and Technology, Farah, Mathura, 07 from Anand Engineering College, and 03 from Hindustan Institute of Management and Computer Studies.
The Prominent companies who provided an opportunity to the students are – Jarrow Education, Gemini Solutions, Infosys – Hackvidinfo, Impetus, Unthinkable Solutions, Nucleus Software EduQ Private Limited Adi Total 24 companies. 485 students have been selected in the last session of 2021.  In which the highest salary package of 24 lakhs per annum has been offered by "Comault Systems Limited".  For the profile "Software Development Engineer – TEST".
Mrs. Priya Pandey, Head, Training and Placement Department said that the officers of our placement team are dedicated to pursue the right opportunities for the students.  She also mentioned that we are developing our students in soft skills, communication, verbal and analytical skills and also have a dedicated training development department to look into this aspectAccording to the placement department about 15 companies have given the confirmation to come for the selection process in the month of October.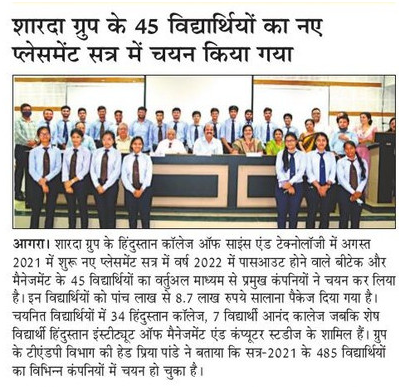 The Head of Departments of Computer Science, Information Technology and Electronics and Communication Branch also informed the students about the working style and technical aspects of the company during the entire placement process.
 Director of Hindustan College, Dr. Rajeev Kumar Upadhyay congratulated and encouraged every student and the team of Placement Department for their tireless efforts in spite of the Covid-19 pandemic The chief guest "Professor (Dr.) D.S.Chauhan (Former Vice Chancellor- UP Tech. University)" Present in the Silver Jubilee Lecture Series Program of  HCST also congratulated all the selected students and wished them for their bright future On this occasion, the Vice Chairman, Sharda Group, Shri YK Gupta, Executive Vice President Shri VK.  Sharma also praised and congratulated the students for their hard work during this pandemic.