Placement in MAQ Software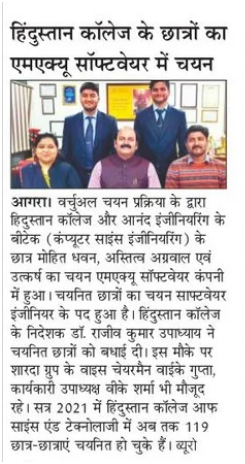 Amidst stressful environment of pandemic Covid-19 (2021 batch) The students – Mohit Dhawan, Astitva Aggarwal and Utkarsh of B.Tech. Final Year of the college were selected by the MAQ Software Company. The selection process was attended by students of Hindustan College of Science and Technology, Mathura and Anand Engineering College, Agra, out of which 03 students from Hindustan College and 01 from Anand College were selected. Selected students will be given an annual package of 6 LPA for the post of Software Engineer.
MAQ Software provides innovative software solutions for 500 companies. This company is closely associated with Microsoft Corporation for the last 20 years. It is Microsoft Gold partners for data analytics, data platforms, cloud platform application development, application integration, project and portfolio management, collaboration and content, datacenters, and security. MAQ has been honored 9 times for the fastest growing private companies in the US by Ink Magazine. Their solutions are used by Machine Learning including Cognitive Services, Microsoft, Amazon Web Services, Big Data and SQL Server, Power B.I. Latest Cloud Computing Trends and IOS including advanced business intelligence and the latest farms such as Android. In addition, MAQ Software is a consulting partner for Amazon Web Services. Less than 1 percent of 5000 companies in America show continued growth for nine or more times. As part of their fast-paced team, employees of MAQ Software help deliver over 100 software solutions every year in an agile and fast-paced manner. Company provides employment for Raymond, WA India for over 700 people in three engineering centers located in Hyderabad and Mumbai. As a core member of a dynamic and fast-moving team, the company provides a unique opportunity to be involved with every aspect of Spirit Planning, Product Definition and Software Development Projects. Their developers engage in requirements, design code, testing, task management and provide end-to-end solutions to customers. This role encompasses all the technical challenges associated with ensuring project delivery on high-speed projects.
About 208 students of the prestigious education group "Sharda Shiksha Group of North India" (Session-2021) have been selected in various companies. These include Hindustan College of Science and Technology, Farah, Mathura and Anand Engineering College, Hindustan Institute of and Management and Computer Studies. Major companies like- TCS, Jaro Education, Gemini Solutions, HCL Technology, Learning Routes, Capital Via, Virtusa Corporation Ltd. Infosys – The companies like Hackavidinfi etc. who have visited the Sharda Education Group have provided an opportunity for service to the students. So far 119 students have been selected in the Hindustan College of Science and Technology in the session 2021 at the maximum salary of 20 lakhs per annum. The package was delivered by "CommVault Systems Ltd., for the post of Software Development Engineer-TEST profile. The process of selection was started by Gemini Solutions Company in July through a virtual selection process. Director of Hindustan College, Dr. Rajiv Kumar Upadhyay congratulated the selected students and wished them a bright future. On this occasion, Vice Chairman of Sharda Group, Mr. YK Gupta, Executive Vice President Mr. V.K. Sharma also praised and congratulated the students for their hard work in times of this epidemic.