Placement In SHL Technologies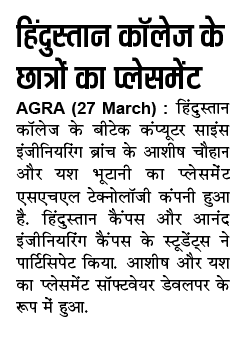 Ashish Chauhan and Yash Bhutani (2021 Batch) Students of B.Tech Computer Science Engineering Branch were selected by "SHL Technology Company" through Virtual Selection Process. Students of Hindustan Campus and Anand Engineering College were appeared in the selection process in which 02 students of Hindustan College were selected. Selected student has been given an annual package of 6.7 LPA for the post of "Software Developer".
"SHL Technologies" enables the companies to attract, develop and work more efficiently which is needed to succeed in the digital age.  It also brings fairness in technology and data science and makes it more transparent. They empower talent strategies to unlock the full potential of your greatest assets.
SHL Organizations help to assess, the Science-based assessment, technologies, and develop the right people for the right roles by using services and benchmark data Employees provide support to customers throughout life. The IT sales and include leaders from HR and Finance from other organizational teams. As a result, they help the executives to improve business performance by making them realize the value and potential of the people. The company has about 1000 branches of 30 different languages in 150 countries.
About 253 students of the "Sharda Group" (Session-2021) have been selected in various companies. It includes the students from Hindustan College of Science and Technology Farah, Mathura and Anand Engineering College, Hindustan Institute of Management and Computer Studies.
In it major companies – TCS, Jaro Education, Gemini Solutions, HCL, Technology, Learning Routes. Companies like Capital Via, Virtusa Corporation Ltd., Infosys – HackavidInfi etc and provide an opportunity for service to the students.
In the session 2021, 165 students have been selected so far in Hindustan College of Science and Technology. In which "Commvolt Systems Limited" has given the highest salary package of 20 LPA with the designation of "Software Development Engineer-TEST" The virtual selection process was started in July  by the "Gemini Solutions" company.
Dr. Rajeev Kumar Upadhyay, Director, Hindustan College, congratulated the selected students and wished them a bright future. On this occasion, Vice Chairman of Sharda Group, Mr. Y.K Gupta, Executive Vice President Mr. V.K. Sharma also congratulated the students for their hard work.