Placement in Virtusa Corporation (P) Ltd.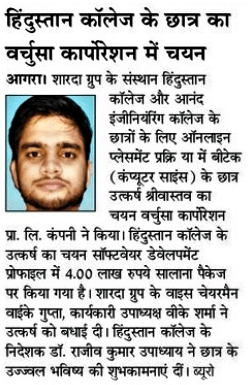 The student of Hindustan College, Mr. Utkarsh Srivastava (2021 batch) B.Tech (Computer Science)   was selected by the company "Virtusa Corporation Private Limited""amidst stressful environment of epidemic COVID-19.
The selection process included students from Hindustan College and Anand Engineering College.  The company selected the student as a software developer on a package of 4.00 lakh.  Keeping in mind the safety of students, the entire selection process has been done online, in which the company took an online aptitude test, technical test and personal interview.
"Virtusa Corporation" is a legal information technology (IT) services company, providing IT consulting, technology and outsourcing services. Using their enhanced global delivery model, innovative platforming approach and industry expertise, they also provide cost effective services that enable its customers to use IT to enhance business performance, accelerate time-to-market, increase productivity, and improve customer service.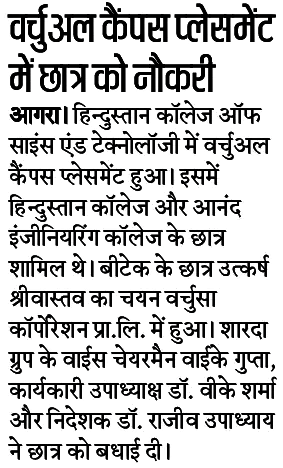 They are responsible for global 2000 industries for communications and technology Serve the leading software vendors in the banking, financial services insurance, media and information industries. They build and maintain application platforms for their clients that create a competitive advantage. "Virtusa Corporation" has been established in Massachusetts in 1996 and now has technology centers throughout the U.S., U.K., and Asia. Virtusa is globally accepted and recognized by the media, customers, and others industry associations.
Some of the awards and recognition include like Dataquest – CMR "IT Best Employer Survey 2012 (Rack No. 5), International Business Award – 2012 (Steve Awards), Britain's Top Employer-2012, American Business Award. 2012 Beston, Fastest Growing Public Companies of Business Journal, Global Services Hundred  FinTech, Hundred Sri Lanka, National HRM, and others.
On this occasion, Vice Chairman of Sharda Group, Mr. YK Gupta, Executive Vice President Mr. VK Sharma  congratulated Utkarsh Srivastava and appreciated his efforts.
Dr. Rajeev Kumar Upadhyay, Director of Hindustan College, congratulated the student Utkarsh Srivastava on his selection and wished him for his bright future.