Placement in Cloud Analogy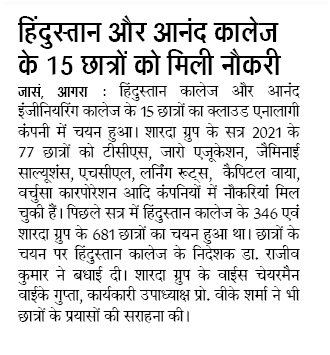 The students of B.Tech (Computer Science, Information Technology) and MCA have been selected in "Cloud Analogy" company.  In the selection process students from Hindustan College and Anand Engineering College and H.I.M.C.S have appeared.  The company has selected 15 students as the software developer on an annual package of 2.4 LPA.
77students (Session-2021) of the prestigious college of "Sharda Group of institutions" have been selected in various companies. Among them, the students were from Hindustan College of Science and Technology.  Farah, Mathura, Anand Engineering College, and Hindustan Institute of Management and Computer Studies Main companies visited in campus like TCS, Jarrow Education, Jamini Solutions, HCL, Technology, Learning Routes, Capital Via, Virtusa Corporation Ltd., Infosys – HackWithInfy etc.The entire selection process has been done online keeping in mind the safety of the students, in which the company took online aptitude test, technical test and P.I.
"Cloud Analogies" is recognized as the fastest growing sales force development company that specializes in selling force implementation consulting, selling force optimization consulting and selling force optimization.  The company's amazing success is attributed to Salesforce Certified Designers, SFDC and hard-working teams of technical architects and developers are awarded.  They provide full force consulting services, from development to rights, integration of data migration and implementation to optimization.  Our sales force development, company strong sales force development, strong sales force, sell cloud, sell force commerce cloud, sell force marketing cloud and force lightning solutions for your business to reach new heights. They also provide sales services. Force products, web development full stack and mobile applications.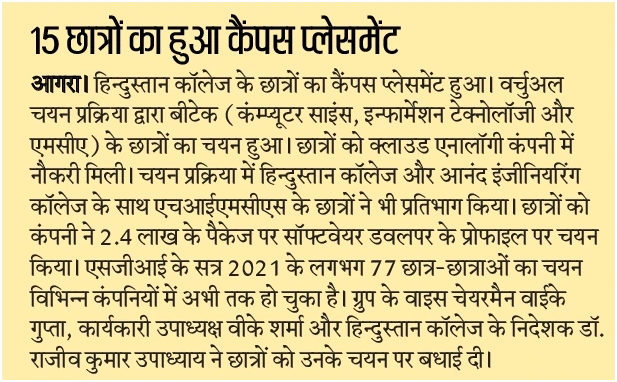 In the last session 2020, 134 companies came to visit the  Campus for Placement In which 348 students of Hindustan College of Science and Technology and 881 students at the group level (Sharda Group) were selected.
Out of 134, about 60 best multinational companies for all the states of India conducted the online selection process (Pan India Level).  The maximum annual package for the session 2020 is 12.4 lakhs.Out of these companies, the annual package of 07 companies is Rs 10 lakh and above.  In which 8 students of the institute were selected.
There were 18 companies whose annual package was from Rs 5 to 9 lakhs.  In which 60 students were selected.  The selectors include Jaro Education, Lido Learning, Hitachi Consultancy, Infogen India, Tech Systems, Tata Consultancy Services, NTT.  Data, Gemini Solutions, Prolifix Global, Hexaware Technology, Wipro Technology, Q.A.  Infotech. Students were selected as a software development.
 Students were selected in Mohan Energy, Sonalika Tractor, Polymedicure, Asahi Glass, Hindustan National Glass, SKH  Group (Krishna Maruti), Amar Raja Battery, Everest Blower, KI Kankube Pvt.  , Prism Cement, Montecarlo Limited, Wynd Möller, Congrux Asia Pacific, Padmini VNA  Adi, Manufacturing, Electronics, R.C and in the Research and development department.
48 Students have been selected Tata Consultancy Services, 25 NTT. 14 in NIIT 07 in Wipro, 06 in Infosys. 06 in Infogain 01 in Hitachi Consultancy, 02 in Jaro Education, 07 students in Novek Technology.
60 companies has been visited the campus for Computer Science Engineering and  Information Technology, 35 companies in Electronics Communication Engineering & Electrical & Electronics Engineering, 40 companies in Mechanical Engineering & Auto Mobile, 34 companies in Biotech & Chemical,
In the year 2021, 35 students have been selected so far in the Hindustan College of Science and Technology.  In early September, four students from B Tech were selected in "Virtual Solutions" through a virtual selection process. Including 03 students from Hindustan College and 01 from Anand Engineering College, on the package of 6 LPA -5.6 LPA.
The Sharda Group (SGI) is one of the largest educational groups in North India, with 3 campuses in Agra and Mathura areas, University of the Arts in Greater Noida, 20 colleges with a vast campus of 180 acres, and campus.  More than 20,000 students and alumni are serving in good positions in more than 40000 reputed companies.
Director of Hindustan College, Dr. Rajiv Kumar Upadhyay congratulated the students on their selection and wished them for their bright future.  On this occasion, Vice Chairman of Sharda Group,  Mr. YK Gupta, Executive Vice President Mr. V.K.  Sharma also congratulated the students and praised their efforts.