Hindustan College ties up with Huawei ICT Academy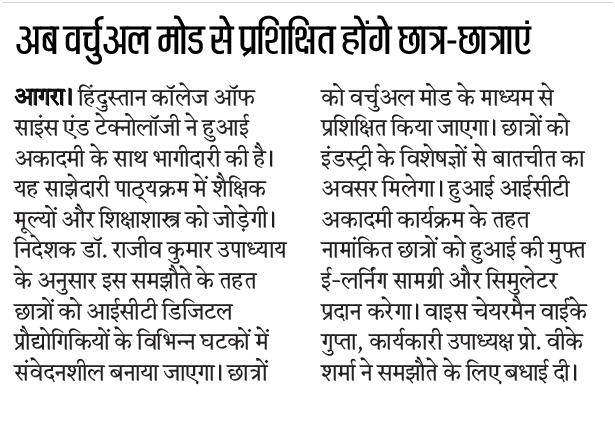 The prestigious institution of Sharda Group, Hindustan College of Science and Technology, has tiedup with the Huawei Academy to address the talent ecosystem. This partnership will add academic values and pedagogy to the curriculum.
Huawei ICT Academy offered custom designed solutions and courses in the fields of Artificial Intelligence Cloud Computing, Internet of Things (IOT), and Big Data. These programs are disruptive technology and essential technologies of Industry 4.0.The Huawei ICT Academy offers customized training and solutions as well as capacity building through its partnership.Under this agreement, students will be sensitized to various ICT digital technologies. Students will be trained through a virtual mode. Students will have the opportunity to interact with industry experts. Huawei will provide free e-learning content and simulators of Huawei to students enrolled under the ICT Academy program.
In today's era, ICT faces major challenges in adapting to its industrial structure and accelerating digital transformation.Through this partnership, the Huawei ICT Academy distributes training of technologies and encourages the students to obtain the Huawei Certificate, and develops talent with practical skills for the ICT industry and community. The advantage of ICT Academy is that it provides digital technology to everyone, everywhere.
On this occasion, Mr. Y.K. Gupta, Vice-Chairman, Sharda Group appreciated the efforts of Hindustan Collegeto achieve ICT partnership with Huawei Technology. He said that we are in the era of digital technologies in which this partnership will make the educational ecosystem fit for students. Students will be trained, which will help them to meet the challenges of the current scenario.
On this occasion, Sharda Group, Executive Vice President, Prof.V.K Sharma congratulated Hindustan Team for this agreement and stated that Huawei Technology offers a comprehensive solution that provides course development, trainer competence lab environment setup and talent certificate to employment,and covers the overall talent development.
The Director of the institute, Dr. Rajeev Kumar Upadhyay, thanked the ICT Academy for collaborating in partnership with Hindustan College. He said that Huawei ICT Academy offers training programs in various disruptive technologies of Industry 4.0. These technologies will enhance the technical skills of the students. This will make them more employable in the current market trends. He mentioned that the college is taking various initiatives to train the students to enhance their skills at various new technological units which will enable the student to become more competent in a competitive environment. This is the era of digital technologies and digital equipment is the need of the hour for students.
Head of Industry Interface, Mr. T. Senthil said that Huawei is one of the important steps of Hindustan College in becoming a partner with ICT Academy. This will pave the way for the students to improve their skills and develop their talent. The ICT Academy will train teachers on different technologies and teachers will be certified by the Huawei ICT Academy.Students will then be grouped and trained on the techniques required. These technologies are elements of Industry 4.0 This partnership combines the values of the Academia – Industry Interface ecosystemHuaweiwill facilitate internships for students undergoing ICT Academy courses. Huawei provides placement assistance only to students who will receive the Huawei Global Certificate.