Inaugural ceremony of Project 'SAHYOG'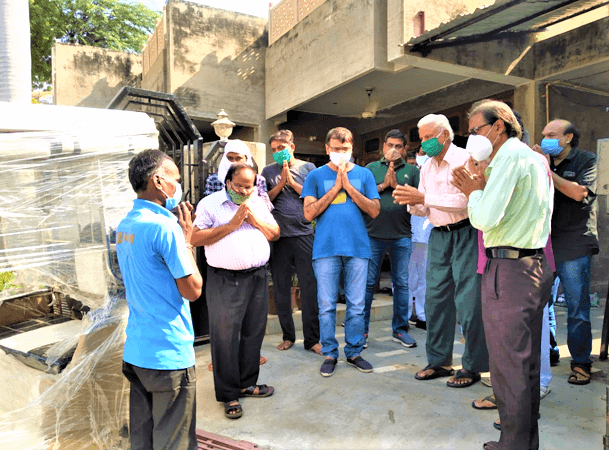 Hindustan Institute of Management and Computer Studies is known for its action based research and teaching pedagogy. Recently the group of MBA students has initiated the "Project Sahyog" which comes under the umbrella of Project SOS (Soldiers of Society) where they have made available an e-auto rickshaw to support the livelihood of two auto drivers. It is well known that team SOS is contributing in the form of SOS Bhojnalaya from the last five years and providing quality food at the subsidized cost of Rs 10/- only to 50 people per day who come under BPL category. Now, with this initiative, the packed food will be provided to old people and also to those who have booked it within the radius of 10 km from Agra City Railway Station at the same cost only.
It proves the statement of Prof Richard Thalar who has received The Nobel Prize in the field of Behavioral Science and Economics. He has paid special attention to three psychological factors: the tendency to not behave completely rationally, notions of fairness and reasonableness, and lack of self-control. It will be working on the same model as suggested by great economist Prof Richard Thalar. Through "Project Sahyog", some employment opportunities will be explored for those who want to contribute towards society.
This project was inaugurated by Honorable Prof Ashok Mittal (Vice-Chancellor, DBRAU, Agra) and Dr Arvind Jain (renowned Physician). This project is a tribute to Late Prof K P Jain and Late Smt Vinod Jain who did lot for the deprived community. The two associate professors of RBS College Agra, namely, Dr Anju Jain and Dr Shomya Sharma will lead this project and guide HIMCS students to fulfill the requirements.
By providing this e-auto rickshaw (jointly to Mr Matadin and Mr Ram Prakash: Auto Drivers from Project SOS), will serve mainly three objectives under the radius of 10 km from Ghatia Azam Khan, near Agra City Railway Station. Firstly to provide food packets in just rs 10/- to those who are in need; secondly to provide free transportation facilities to old people and lastly it will promote the philosophy to pay from heart where in passenger himself or herself decides the fare and gives the amount from his or her comfort or heart. With the mentioned objectives Project Sahyog has initiated for serving humanity and mankind.