Student Of HIMCS Bagged HR Internship In Her First Attempt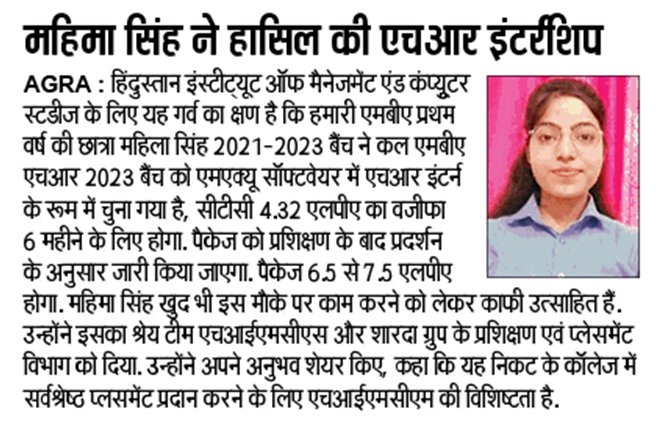 Mahima Singh, an MBA student from the 2021–2023, class of Hindustan Institute of Management and Computer Studies, has received her first job offer as an HR intern at MAQ Software. Mahima Singh, an MBA HR 2023 graduate, has been chosen to work as an HR intern at MAQ Software, where she will get a 6-month stipend of CTC 4.32 LPA (Rs 36,000). Following training, PPO will be released based on performance. 6.5 to 7.5 LPA would make up the package.
She is incredibly eager to take advantage of this opportunity. She credited Sharda Group's training and placement division as well as team HIMCS for this. She stated that enrolling in HIMCS, where faculty members work on the overall growth of the programme, is a fantastic experience. The institute's director, Dr. Naveen Gupta, praised her for her accomplishment. According to him, HIMCS is unique in that it offers the best placement.