E workshop on Investors Awareness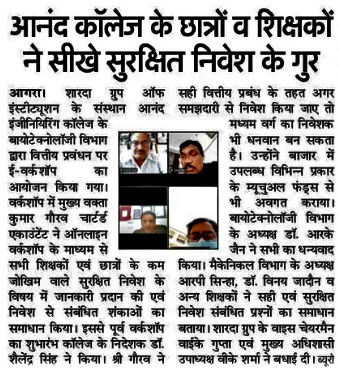 Department of Biotechnology, Anand Engineering College Agra in association with K G foundation New Delhi organised an e workshop on Investors Awareness.
E -Workshop was inaugurated by Dr. Shailendra Singh, Director Anand Engineering College. Mr. Kumar Gaurav, CA was the speaker of the workshop. Mr. Gaurav emphasized on the various points related to savings, investment, investments instruments and strategies. He also focuses on financial plannings,  Precautions for investment at this crucial Covid-19 time and shared knowledge on various investment products with possible risk factors.