Outstanding performance by students of Anand College of Pharmacy in GPAT-2023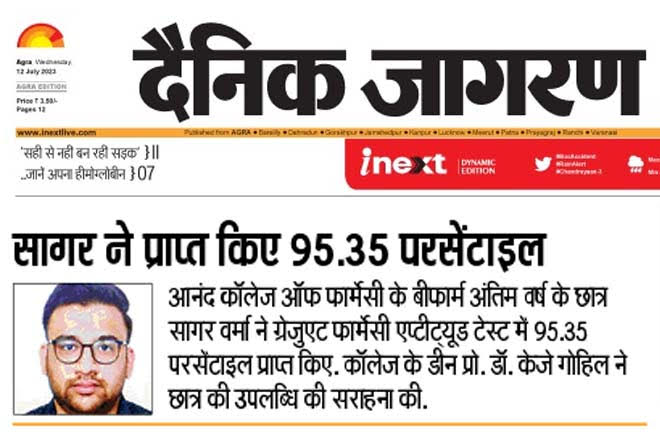 Student of Anand College of Pharmacy Qualify GPAT-2023 Exam with top Percentile
Anand College of Pharmacy has been stamped with another proof of academic excellence as a student of B. Pharm, Final year Mr. Sagar Verma (B. Pharm. IV Year) has qualified for the Graduate Pharmacy Aptitude Test in Pharmacy conducted by the National Testing Agency for the year 2023 with an NTA Score of 95.35. The Graduate Pharmacy Aptitude Test is an annual all?India examination conducted by the National Testing Agency to evaluate candidates for admission of Pharmacy graduates into Master's programs.
Dean of Anand College of Pharmacy, Prof. (Dr.) K. J. Gohil applauded the achievement of the student, adding that "There is no substitute for hard work and perseverance and hard work is the key to success" in addition to the university curriculum, the college students are taught keeping in mind the syllabus of GPAT. The college students have been bringing laurels to the college in various fields and getting better employment by performing excellently. All faculty members of the institute congratulated the student for his achievement.
The Executive Vice president of the SGI group, Prof. V. K. Sharma, and Hon. Vice-chairman Shri Y. K. Gupta congratulated the student and all the guiding teachers and wished them a bright future.