Anand College of Pharmacy students won national level online quiz competition on 10th world pharmacist day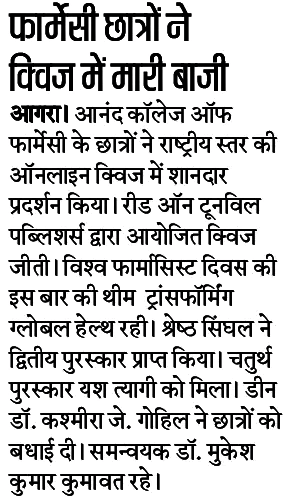 Students of Anand College of Pharmacy won the National level online quiz competition organized by Read on-Doonville Publishers Pvt. Ltd. on the occasion of 10th World Pharmacist Day (Theme: Transforming Global Health) on 25th September 2020. Shreshth Singhal (B. Pharm 2nd Year, Section-B) secured 2nd prize and 4th prize went to Yash Tyagi (B. Pharm 2nd Year, Section-B) along with e-certificate of the National level quiz competition.
Dean, Anand College of Pharmacy Prof. (Dr). Kashmira J. Gohil, congratulated them on winning the national level competition. The coordinator of the event from Anand College of Pharmacy was Dr. Mukesh Kumar Kumawat.