AKTU HCST Student Merit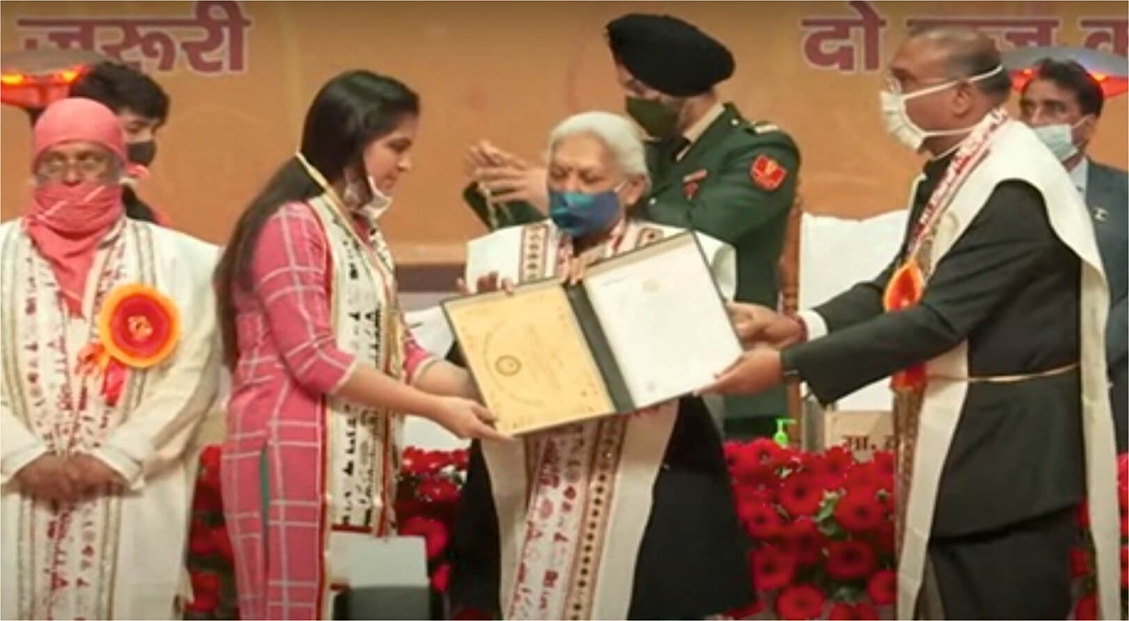 Students Shweta Vajpayee of Bio-technology, Deependra Kumar Dixit of Civil Engineering Department and Harshita Gupta of Information Technology Department, of Hindustan College of Science and Technology, a prestigious college of Sharda Group, bagged Gold, Silver and Bronze Medals in the Convocation ceremony of Dr. APJ Abul Kalam Technical University, Lucknow. The Governor of Uttar Pradesh, Mrs. Anandi Ben Patel, was the Chief Guest, Minister of State for Technical Education Mr. Sandeep Singh, was the distinguished guest of the convocation ceremony. Dr.  Vinay Kumar Pathak, Vice Chancellor of AKTU presided over the program.
Mr. YK Gupta, Vice Chairman, Sharda Group and Executive, Vice President Prof. VK Sharma congratulated all the students of the college who received medals for their achievements and said that this achievement of the students made the college proud and they were confident that in future also our other students will continue this kind of performance. Expressing happiness over the performances of the students, the Director of the College Dr. Rajeev Kumar Upadhyay said that the students have always found ranks in the merit list of Dr. APJ Abdul Kalam Technical University, Lucknow. On this occasion, All the Deans, HODs, Faculty Members of the college motivated them for their work hard.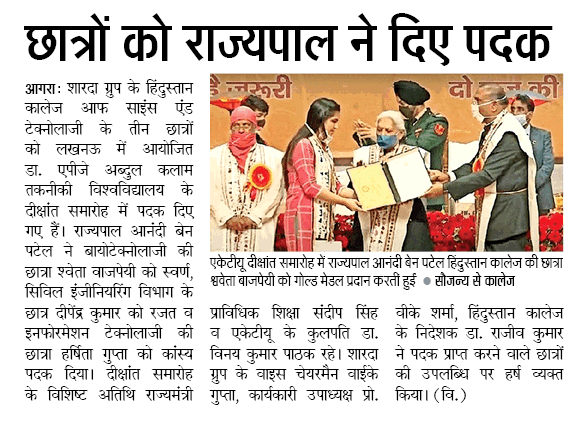 Getting topper places in the merit list of AKTU shows the best quality and academic environment of the college. Our students have been performing continuously at national and state levels in the same way.  The educational environment of the college is encouraging to perform best in academics and competitive examinations as well. Dr. Upadhyay said that he is confident that in the near future, our students will also excel in the knowledge and skills of the best engineers.  He congratulated the Heads and teachers of the concerned departments on this achievement of the students.
Dr. Ajay Kumar Sharma HOD of Bio-Technology congratulated Shweta Vajpayee, Head of the Department of Civil Engineering, Mr. Saket Vihari, congratulated Mr. Deependra Kumar Dixit, Mr. Shankar Thawkar HOD Information Technology, congratulated Miss Harshita Gupta, on this occasion. The Dean Faculty, Dr. Harendra Singh, Dean R&D Dr. MS Gaur, Dean Student Welfare Dr. Sandeep Aggarwal, Dean Academics Mr. Vijay Katta, First Year Coordinator Dr.  Suruchi, Controller of Examinations Dr. RK Tiwari, Dr. Mamta Sharma, Dr. Puneet Mangla, Dr. Munish Khanna, Dr. Richa Kapoor, Shri Anurag Vajpayee, all the teachers and staff of the college congratulated the students on their achievements.