Placement in Micromatic Machines Tools Pvt. Ltd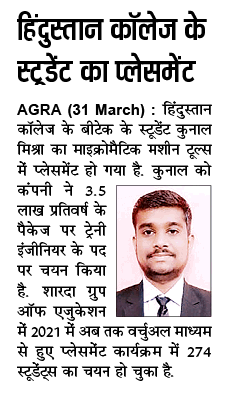 One more student of B.Tech (2021 batch) Mechanical Engineering Branch, Kunal Mishra was selected in "Micromatic  Machine Tools". Company by virtual selection process of Covid-19. The selection process was attended by students of Hindustan College and Anand Engineering College, in which 01 student of Hindustan College was selected for the post of "Trainee Engineer" with  3.5 LPA.
"Micromatic Machine Tools Private Limited" is the only marketing company in the Ace Micromatic  Group known as MMT, the largest machine tool group in India. In short, it is an ISO 9001:2015 certified company with 7 technology centers and 55+ offices covering the entire country.MMT has also established offices in China, Germany and Switzerland. It has a total staff strength of 600+ people of which 475+ are technically qualified  (Engineer, Diploma holders and Technician) and specialist in marketing. The company trained them to provide sales services such as commissioning, problem solving.  The range of machine tool products including CNC Lathes, CNC  machining centers, CNC grinders and automation products (tool turret, auto tool changers).
About 274 students of "Sharda Group" of North India (Session-2021) have been selected in various companies. In this the students of Hindustan College of Science and Technology Farah, Mathura and Anand Engineering College, and Hindustan Institute of Management and Studies were included The Major companies –like TCS, Jarrow Education, Jamini Solutions, HCL, Technology, Learning Routes, Capital Via, Virtusa Corporation Ltd.  Companies like Infosys – HackvideInfi etc.
In the session 2021, 168 students have been selected.  In which The "CommVault Systems Ltd.", has given the highest salary package of 20 LPA, on the profile of "Software Development Engineer-TEST".  The process was started in July through a virtual selection process by the "Gemini Solutions" company.
The Director of Hindustan College, Dr. Rajiv Kumar Upadhyay congratulated the selected student and wished him a bright future.  On this occasion, Vice Chairman of Sharda Group, Mr. Y.K Gupta, Executive Vice President Mr. V.K. Sharma also congratulated the students for his  hard work.