Placement in Congruex Asia Pacific LLP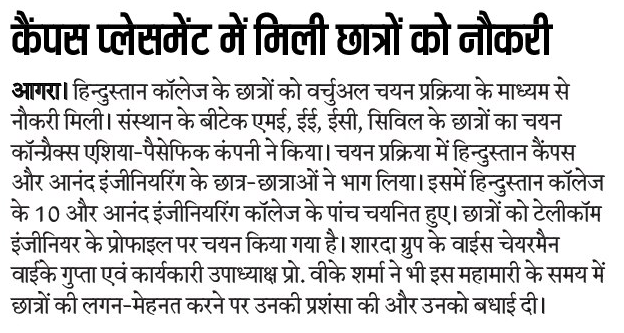 The renowned company Congruex Asia-Pacific LLP selected students of ME, EE, EC and Civil branch of 2021 batch in virtual selection process amidst stressful environment of pandemic Covid-19. The selection process was attended by the students of Hindustan College and Anand Engineering College, out of which 10 students from Hindustan College 5 students from Anand Engineering College were selected.  All these students have been selected on the profile of "Telecom Engineer-1".  The selected students will be given the package of 3.35 LPA.
On this occasion, Mr. YK Gupta, Vice Chairman, Sharda Group and Executive Vice President Shri V.K. Sharma praised and congratulated the students for their hard work.
Director of Hindustan College, Dr.  Rajeev Kumar Upadhyay congratulated the students on their selection and wished their bright future and credited the Placement Department for its renewed focus on improving academic and overall development on each student.
Congrax Asia-Pacific LLP, with its headquarters in USA, is an engineering design firm and is primarily to cater to the needs of the parent company which in turn supports telecom giants like AT&T, Verizon, Google, Centurry Links etc. for infrastructure work such as design and telecom.  They are an important part of the telecommunications engineering process, providing expert problem solving and creative solutions to their customers, exceeding customer expectations.  Here at Congruex , students will have the opportunity to work with people of diverse views, personalities and backgrounds who are run by GRIT, (Himmat).
About 203 students of Hindustan College, Anand Engineering College, Hindustan Institute of Management and Computer Studies (Session-2021), of the prestigious education group "Sharda Group" of North India have been selected in various companies. Major companies like TCS, Jaro Education, Gemini Solutions.  HCL, Technology, Learning Routes, Capital Via, Virtusa Corporation Ltd., Infosys – HackavidInfi etc. have provided opportunity to serve students in their organizations.
Total 116 students have been selected so far in the session 2021 from Hindustan College of Science and Technology. In the beginning of September, the reputed company "Gemini Solutions" selected total 04 students of B.Tech (03 from Hindustan College and 01 from Anand Engineering College) through virtual selection process on the package of 6 LPA – 5.6 LPA. The maximum salary package of 20 lakhs per annum in Hindustan College was given by ComVault Systems Ltd on Software Development Engineer-TEST profile.
On this occasion, all the Deans, Department Heads, Teachers and Staff of the college congratulated the selected students and their bright future.