Hindustan College Of Science & Technology Fresher Party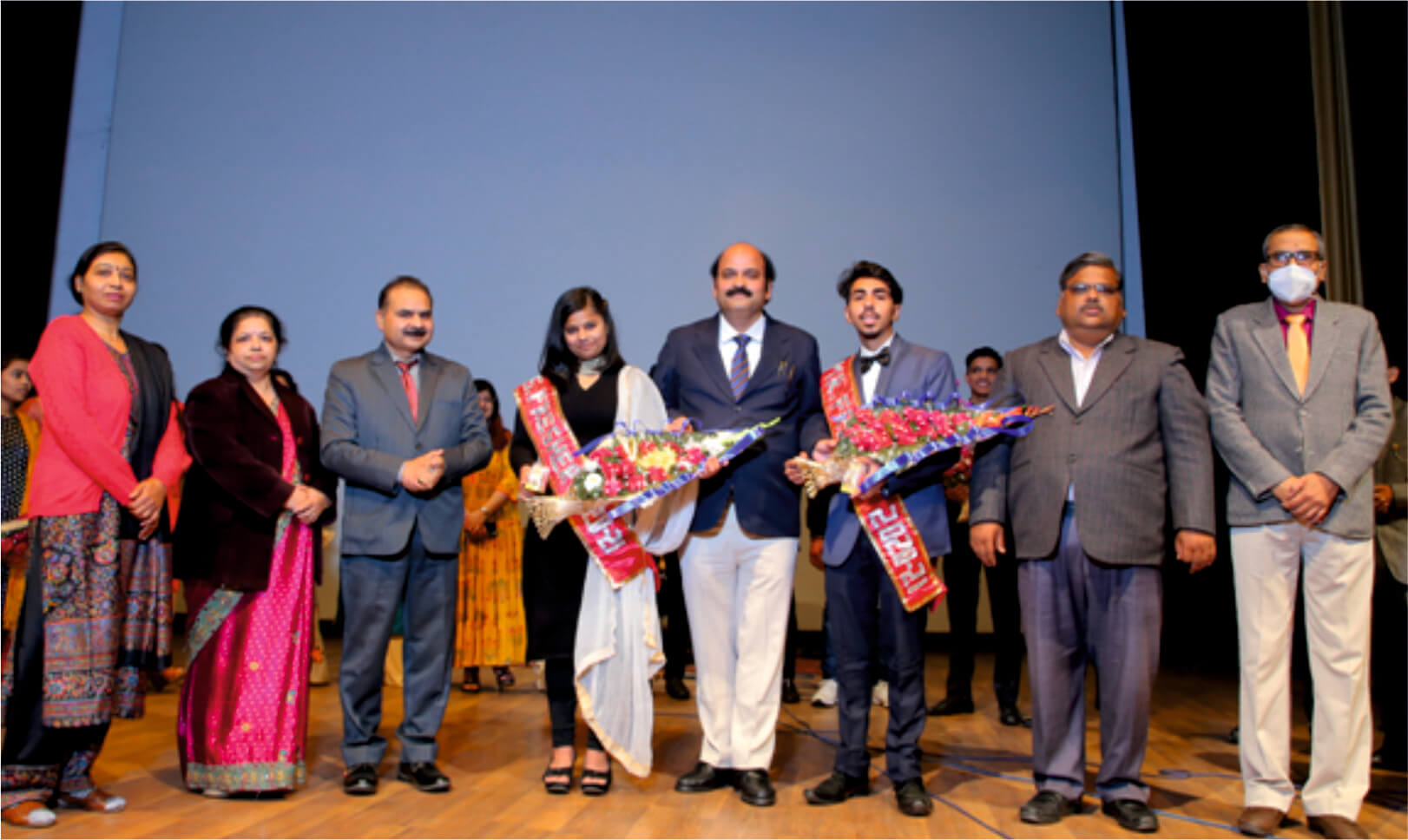 On 05th February 2021 Friday, 25th Fresher Party was organized at Hindustan College of Science and Technology,   This function was organized to provide an atmosphere of complete intimacy and cooperation between newcomers and senior students.
The program was started with lighting the lamp in front of Mother Saraswati by Prof V.K. Sharma, Executive Vice President Sharda Group of institutions, Director Hindustan College, Prof. Dr.  Rajeev Kumar Upadhyay, Dean Faculty Dr.  Harendra Singh, Dean R&D Prof.  M. S .Gaur, Dean Student Welfare Dr.  Sandeep Agarwal, First Year Coordinator, Dr.  Suruchi, Assistant Dean Academic Mr. Vijay Katta.
Director of the institute of Dr. Rajeev Kumar Upadhyay welcomed all the newcomer students and congratulated the senior students for their proper guidance and adoption of newcomer students and making the campus ragging free. He encouraged the first year students for good academic results. He said that 3 students of Hindustan College had Gold, Silver and Bronze medals based on AKTU's merit list -2020 He said that the students of the institute are excellent not only in academics but also in sports and other disciplines. He motivated the students to keep creative ideas and be serious for study. He also thanked all the people directly and indirectly connected to the program for making the program successful.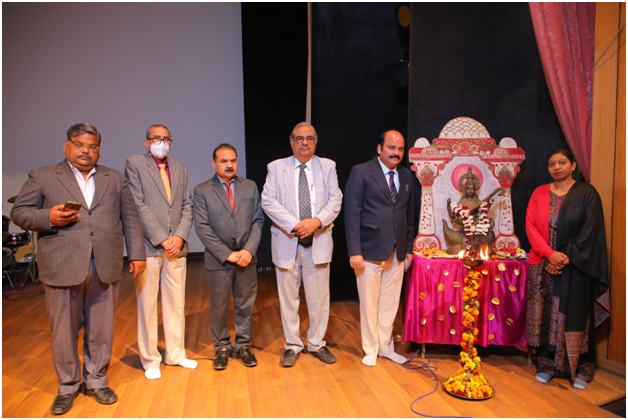 Executive Vice President, Sharda Group Prof. V. K Sharma welcomed all the newcomers and motivated them to  increase their academic performance. He encouraged the students to work in every field for the all round development of their personality.
Dr Rajesh Kaharwar, NCC officer, Lieutenant, Hindustan College, said that the NCC was started in 2012 with 50 seats in the institute and our NCC cadets were at state level, national level with many security forces such as paramilitary forces, Indian Army, state police forces and also employed in a specific security force. On this occasion NCC cadets were awarded certificates for their outstanding performance.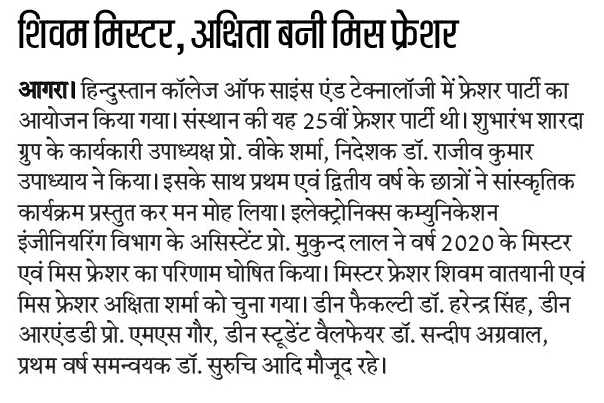 On this occasion, the students of the first year and second year presented cultural programs.
In the same sequence, the performance of Mr. Fresher 2020 Mr. Shikhar Singh, Computer Science and Miss Fresher 2020 Ms. Sejal Jain, Information Technology also received a lot of applause.  At the end of the program.
Mr. Mukund Lal, Assistant Professor, Department of Electronics Communication Engineering, announced the name of Mr. and Miss of the year 2021. Mr. Shivam Vatayani and Ms. Akshita Sharma, Computer Science were selected as Mr & Ms Fresher2021.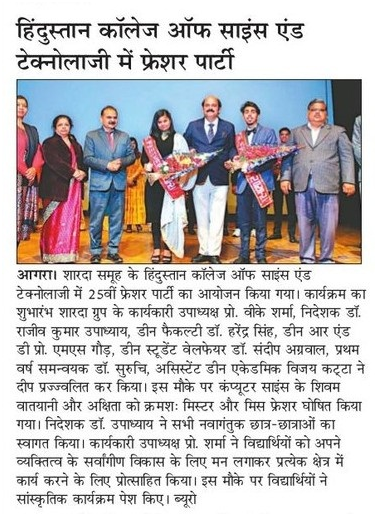 At the end of the program the Dean Student Welfare Dr. Sandeep Agarwal thanked the Cultural Committee, Food Committee, and congratulated all the organizing committees and senior students for organizing the program successfully.
Cultural program was conducted under the supervision of Mamta Sharma and Mr. Mukund Lal. Dr.Munish Khanna, Dr.Puneet Mangla, Dr.Shankar Thaker, Mr. Saket Bihari, Dr.  R.K.Tiwari, Dr. Richa Kapoor, Mr. Sanjay Singh, Mr. Anurag Vajpayee, Dr.  Ajay Sharma, Mr. Vipin Kumar, Dr. Mukti Richaria, Dr.  Archana Gautam, Mr. Anand Porus, Dr. Pramod Kumar, Dr.Vinod Kushwaha, Mr. Vivek Agarwal had commendable support. All the teachers, staff and students of the institute were present during the program.